Looking for a sample of the Boogie Chillens Cd? Click below to download thier signature song
Love of Mine from their first release I Don't Know.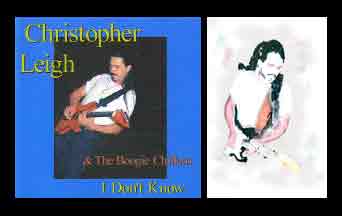 While shipping & handling is free

.
Below is the inside cover info for the "I Don't Know" CD.
A Huge thank you goes out to the following people, for without their support this project would never been completed:
PJ & Laurie – Thanks for being there, through the rough times, the good times & for your friendship.
Cheri, Jeni, Josh, & Chris, Jr. – Thanks for your love & support. Family is the most important thing to me and I have the best.
Al, Karl, Kenny, & Sally – Time & good advice are hard to come by. Yours came at the right time.
Big Mike – You were always there. Thanks.
And last but not least a separate thank you to Leigh, The most supportive dad in the world.
Thanks to all the people listed above and the fans. Without you there would be no need for us.
Peace
Stay tuned - The 'Chillens are releasing their 2nd CD in July/August of 2006. Be sure to come back and get yours right here!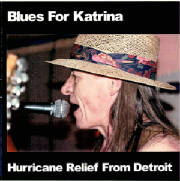 Finally Here!!!
2 new CDs to benefit Katrina Victims have been released.
CD #1 - Blues For Katrina, Hurricane Relief From Detroit
CD #2 - Blues for Katrina & the McDowell Family
Musicians at No Cover productions, a few others and No Cover president Mike Boulan have donated their time and talents to put together a CD of that Detroit blues that you love so much. This CD will feature more than 15 of Detroit's best recording artists. All proceeds will go to the Red Cross fund for Katrina victims.
Christopher Leigh from the Boogie Chillens & the Alley Katz Band donated two of his own original songs to the effort, Voodoo Boogie, and Stayin' Home. Booth songs were written within the week of the recording and most of the other artist's songs were as well.
Talk about fresh off the press, these CD's are as fresh as they possibly can be!
These CDs and the musicians that performed on it will be showcased on The Blues For Katrina Record Release Party at Memphis Smoke located on Main St. and 11 Mile Rd in Royal Oak, MI. on Sunday April 9th 2006.
So be sure to attend. You could be the first on your block to get the No Cover Productions Blues For Katrina, Hurricane Relief From Detroit CDs.
A postscript from Christopher Leigh:
These people really need our help. Many are still homeless. When I think of all the influences I have benefited not just from the rich heritage of New Orleans culture, art, music, and history but also the other areas of Louisiana and the South that were destroyed, it burns me to the soul to know that these people are still suffering. So please, let's do our part to get these people back home! Buy the Relief CD or donate your gifts directly to the Red Cross.
Thank you,
Chris Leigh & the Alley Katz
You can click over to
No Cover Productions
to order your copies today!